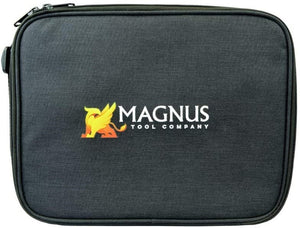 11" Diagnostic Tablet Soft Carrying Case by MAGNUS
SKU: 23101240
This is the very first soft carrying case made with diagnostic tablets and key programmers in mind. Protect your investment! Hard-shell carrying cases are nice, but the amount of time it takes to retrieve and pack up your equipment between jobs can lead to some rather unscrupulous behavior, like allowing your machine to ride shotgun on the passenger seat without a seatbelt.
Our bags are manufactured with 100%, heavy-duty Polyester construction, so they'll take a beating in the harshest of shop or work van environments. They include plenty of storage spots for the accessories and charging equipment you use most, so you can take only what you need instead of lugging around every single module and dongle that came with your machine.
Best of all, sliding the tablet in and out of the Diagnostic Tablet Soft Carrying Case is quick and easy, so you'll be more likely to use these over the clasp-and-clamshellhard cases that your machine shipped in.
Exterior details: Features double-black metal & nylon zipper closures for the accessory and machine compartments. Durable Magnus heat transfer logo on the front, with an adjustable, webbed shoulder strap.
Interior details: The top of each compartment has elastic cording, which assists in keeping products secure and in place. Polyester webbing stitch-down and elastic cords throughout, perfect for securing chargers and cables. Contains a Velcro pouch, for additional dongle and accessory storage. Pouch orientation prevents items from spilling out when the case is picked up by the handle.
Dimensions (in): 11.5" x 9" x 3.8"