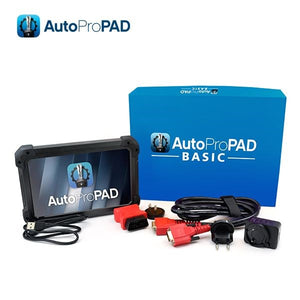 AutoProPAD BASIC Key Programmer
SKU: 20400750
(ONLY AVAILABLE THROUGH DISTRIBUTORS)
---
The AutoProPAD BASIC is a dedicated OBD vehicle key and remote programmer. It includes the same programming and diagnostics capabilities as the AutoProPAD LITE but in a budget-minded package.  It is ideal for locksmiths looking to provide reliable security services for their customers for most vehicle makes worldwide. It includes the same OBD key programming and diagnostics software as its bigger brother, the AutoProPAD, but does not include reflashing or pre-coding features. The AutoProPAD has quickly become the primary OBD key programming tool for locksmiths across America and once you own one, you'll understand why!
Best of all, the AutoProPAD is NOT token based. Use your machine on your own terms. New vehicles and feature updates are added regularly and are free for a year, so prepare to leave your other programmers gathering dust. After your first year, your machine continues working as it always did. You can continue to receive updates and support for an additional year with a $600 annual renewal fee.

AutoProPAD BASIC Main Features:
Transponder & Remote Programming: Including Acura, Audi, Fiat, Ford, GM, Honda, Hyundai, Infiniti, Isuzu, Jaguar, Kia, Land Rover, Lexus, Mazda, Mitsubishi, Nissan, Porsche, Saab, Scion, Subaru, Toyota, and Volkswagen. See the AutoProPAD Application Guide for more details
OBD PIN Reading: Support for Audi, Chrysler, Dodge, Fiat, GM, Hyundai, Infiniti, Jeep, Kia, Nissan, and Volkswagen.
Unlimited Usage: One full year of unlimited updates and support is included absolutely free with every AutoProPAD, AutoProPAD LITE and AutoProPAD BASIC purchase. At the end of the first year, your AutoProPAD will continue working as it always did but will no longer receive new vehicle updates. Technical support services, as provided by Lock Labs, will also cease. 

AutoProPAD BASIC Main Unit Specifications:

| | |
| --- | --- |
| Operating System: | Android |
| Processor: | Quad-Core 1.60 GHz Processor |
| Memory: | 1GB RAM, 16GB Flash |
| Display: | 7.0" Touchscreen |
| Camera: | n/a |
| Ports: | MicroUSB |
| Battery: | 4000mAh, 3.7V Lithium-Polymer Battery |
| Dimensions: | 8.2"Wx5.5"Hx1.1"D |

 

Frequently Asked Questions:




How do I get updates?

There are 2 methods for updating your unit:

Connect your AutoProPAD BASIC to a Wi-Fi network. Click the menu button on the top-left and select Updates. There you will see all updates available and can simply click each one to get your device updated.

Connect your AutoProPAD BASIC to a Wi-Fi network. From any screen showing all vehicle manufacturers, a small, white Update icon will appear next to a manufacturer name if an update is available. Click each update icon to perform the update one at a time.

Please check for updates frequently. We recommend checking it weekly since updates are being added at a fairly fast pace.

What happens when my subscription ends?

Your AutoProPAD BASIC includes a free year of unlimited updates. When your subscription ends, you can continue to use your unit like normal, but any new updates will not be available to download. Also, please note that on-the-vehicle technical support is only available to users with an active subscription.

Where can I get support?

XToolUSA is providing support for this machine from within the US at (888) 988-6865. Please save that number. Note that technical support is only available for users with an active subscription. Please have your serial number ready before calling.

What kind of warranty is included?

The manufacturer provides a 1-year limited warranty against defects (not physical damage), covering parts and labor (usually not shipping). Please contact the XToolUSA office with any problems.




Includes:

AutoProPAD BASIC Main Unit

Main cable with OBD2 adapter

Power Adapter

MicroUSB Cable

User Manual

Certificate of Quality with Product Activation Info

Packing List

Recommended Accessories:

Chrysler/Dodge/Jeep 2018+ Universal Programming Cable

Replacement OBD2 Adapter for AutoProPAD

AutoProPAD Full, LITE & BASIC Updates & Support Subscription 1yr

Please note that subscriptions that are allowed to lapse 30 days will be subject to a 30-Day-Lapse Reactivation Fee.