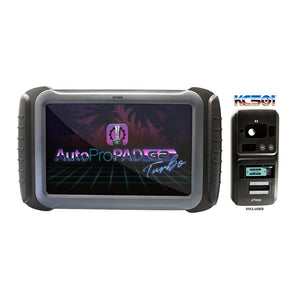 AutoProPAD G2 Turbo Key Programmer
SKU: APPAD-G2-TURBO
(ONLY AVAILABLE THROUGH DISTRIBUTORS)
The number one key and remote programmer in America is back and better than ever! Meet the fully redesigned AutoProPAD G2 and AutoProPAD G2 Turbo. 
The AutoProPAD G2 Turbo is the flagship model, boasting a larger screen, bigger battery, wireless VCI, a full complement of SOIC chip-reading accessories (for European programming), hardshell carrying case, and has the most advanced EEPROM capabilities of any AutoProPAD to date. The standard AutoProPAD G2 contains the same comprehensive suite of OBD programming software as the Turbo but in a more compact form factor and with basic EEPROM capabilities.
The Lock Labs product development team has worked hard to customize the AutoProPAD G2 & G2 Turbo for the US market, and an immeasurable amount of work has gone into ensuring that all opportunities presented to us by the previous build have been addressed in this new iteration. These machines are bigger, faster, stronger, and smarter than the previous generation, and contain specs that eclipse almost every other programmer currently on the market!
Automotive security protocols are rapidly evolving. Secure Gateway Modules and end-user data encryption are becoming the norm, and the new AutoProPAD G2 Turbo has been designed with the future in mind. As EEPROM, online server calculations, and key pre-coding are being introduced to Asian and American vehicles, you can be confident you are investing in a hardware platform that will continue to evolve with the needs of all American automotive locksmiths.
It is an incredibly rare feat for a dedicated key programmer to see a second generation. Since the original AutoProPAD was introduced over six years ago, There has been about a dozen competing key programmers come and go. Most were brought to market on antiquated platforms that contained equally archaic programming data. With no intention of innovation or refinement, those machines were doomed from the start. Others emerged strong, with the stated intentions of scaled growth and future updates but failed to live up to any of those promises.
Each of these machines had a couple of things in common: Not only did they all fail to innovate or keep pace with the needs of American locksmiths, not a single one provided live technical support, leaving you to deal with programming issues all on your own. Not a single one provided domestic warranty or repair services, leaving you with absolutely no recourse in the event of critical failures, or even simple repairs.
Much like every other product backed by Lock Labs, all you need to worry about is making keys and collecting your money. Let them handle everything else.
As always, the AutoProPAD G2 and G2 Turbo are NOT token-based!
Use your machine on your own terms. New vehicle support and feature updates are added regularly and are free for a year. After your first year, your machine will continue working as it always did. You can continue to receive updates and support for an additional year with an extremely reasonably priced subscription. Or don't. It's up to you. You get to keep and continue using exactly what you paid for, like most everything else in life.
Visit  http://www.autopropad.com for the latest product information, a list of supported vehicles, programming demonstration videos, and so much more!
Make sure to join one of the most active and helpful automotive locksmith communities that social media has to offer! https://www.facebook.com/groups/autopropad
20401454
20401454