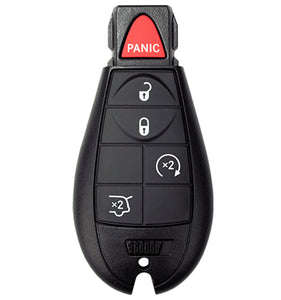 Chrysler/Dodge/Jeep 2008+ 5-Button Fobik #9 (NO KEYLESS GO)
SKU: 17302813
KEYLESS GO will not work with this fobik, however all other functionalities will be available for your customer.
Compatible FCC ID:
IYZ-C01C
(Interchangeable with M3N5W783X)

Compatible 

IC:
2701A-C01C
(Interchangeable with 267F-5WY783X)

Compatible 

MFK Blade:

MFK-083

Compatible 

MFK Chip
Philips 46 (Chrysler / GM Circle+)

Emergency Key
Included
Nitrous Keys is a brand developed to make finding a key fob, keyless entry remote, transponder key and mechanical key for your particular automobile easy and painless. We serve the individual, shop owner, or small business that is looking to take all of the frustration out of finding good product. We are dedicated to finding product that is reliable, available, and affordable. Nitrous Keys sources from only tested and tried suppliers. Our goal is to be able to provide the product at a great price and get it into your hands as fast as possible. Thank you for trusting Nitrous Keys for all your automotive key needs. We will strive to provide you with the best product, service, and prices.
**Please be advised, select Chrysler, Jeep, Dodge vehicles may have an option installed called "Keyless Go" that will allow certain models to have push to start capabilities. The FOBIK included with the Nitrous Keys bundle does NOT work with the push to start feature. To use the FOBIK included with the Nitrous Keys bundle, simply remove the push button from the dash panel and follow our normal programing procedure. Please contact our support team if you need assistance programing a FOBIK to a vehicle that has the "Keyless Go" option installed.