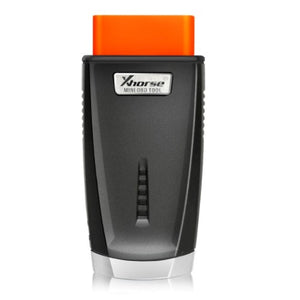 Mini OBD Tool
SKU: 20903761
(XDMO00EN)
XHorse VVDI Mini OBD Tool
The new VVDI Mini OBD Tool is designed to work in tandem with the VVDI Key Tool Max. It is a wireless OBD vehicular interface that provides diagnostic reporting and manipulation as well as containing immobilizer programming capabilities. If you do any automotive work at all, you're going to want to embrace this new platform.
The underlying goal here is to provide you a single system which will guide you through creating a functional key and get it programmed to the vehicle.
Step 1: Read the vehicle data (VIN & immobilizer) via OBD utilizing the Mini OBD Tool and Key Tool Max (required)
Step 2: View the remote and transponder chip information for the vehicle you're plugged into, directly from the Key Tool Max tablet. Utilize that information to instantly generate your chip and key.
Step 3: View the proper keyway (on the Key Tool Max) for cutting on the Dolphin and cut your blade (once you've Lishi'd to determine your cuts).
Step 4: Take your completed key back to the vehicle for immobilizer programming with the Mini OBD Tool and Key Tool Max. 
Step 5: Profit!
The diagnostic software suite will include the ability to read and clear check engine codes, modify antilock braking systems, adjust TMPS settings, performance tune the ECM and so much more.
This is truly a one-of-a-kind, comprehensive key-generating platform from some of the most innovative minds in our industry.