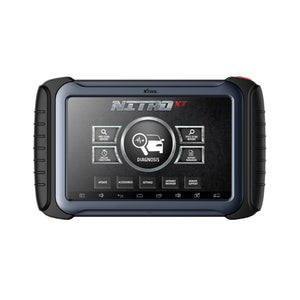 NITRO XT Diagnostic Scan Tool
SKU: NITRO-XT
The Nitro XT (20401223) diagnostic scan tool is a state-of-the-art diagnostic platform. Featuring an easy to read 10.1-inch industrial capacitive touch screen. It has 4G RAM and 64G on board memory for fast and seamless operation. VGA data transfer point for fast data transfer.

XT (10-inch) Specifications
Crystal clear 10-inch touch screen display features a 1280x800 resolution providing an easy-to-read display in any lighting conditions.

Quick 1.8 GHz quad-core processor with 4GB RAM and 64GB hard drive

Rugged shock proof metal case is perfect for any shop environment.

Connect to OBDII, bluetooth, or Wi-Fi for flexibility in any situation.

Auto-focusing 8-megapixel rear flash camera for high quality photos.

10000 mAH battery allows for an 8-hour operation period. Fast charging through an OBDII port and included power cable gets the machine back in operation in minutes.

Xtool Nitro machine is a FULL system car diagnostic tool based on an Android system.
Essential Features
Auto-Scan all modules to display codes on screen. Quickly erase codes in all systems with one click.

Supports ALL 10 Global OBDII modes

Nitro system has extensive worldwide vehicle coverage, including USA Domestic, Japanese and European cars.
Special Functions
Smart key and transponder key programming

Automatic and manual service light reset functionality for over 80 different vehicles.

Easy shortcuts to most common service resets in 5 clicks or less.

Capable of throttle relearn, BMS reset, EPB, TPMS, and MORE!
Tech Support
Your Nitro diagnostics system includes two years of unlimited software updates.

Easily connect to Wi-Fi and download monthly software updates for active subscriptions.

Subscriptions can easily be renewed each year for a low cost.

XtoolUSA will be there to answer any questions/concerns and providing support for the Nitro diagnostics system from within the US.

Screen to screen remote access for tech support and/or sharing data.

Facebook user groups for best practices! Nitro Scan Tool User's Group
Warranty
All Xtool products have a 1-year limited warranty against manufacturer defects.

Manufacturer will cover parts and labor towards repair of your system. Please contact XtoolUSA with any problems.
Automotive Diagnostic System
Reads live data parameters in all modules

Reads and clears DTC for generic and OEM enhanced codes

Supports component activation testing in most major systems.
Reporting Features (10 inch)
Generates professional PDF reports

Pre-scan and post scan PDF reporting available

Featured options to capture, record, and play back sessions

Easily print your PDF's by connecting to any laptop or Wi-Fi. No printer, no problem. You can easily transfer data with a USB cable or via e-mail.
20401223