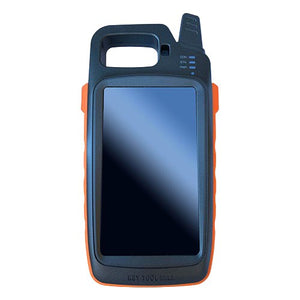 VVDI Key Tool Max OBD Tool
SKU: 20903760
The VVDI Key Tool Max covers the same functions as the original VVDI Key Tool, but on a robust Android tablet with optimized memory and processing power for future-proof updates. It features the the added ability to control the Condor Dolphin and to connect to the upcoming Mini OBD Tool, which contains immobilizer programming and diagnostic functions.
**PLEASE NOTE** - The first screen upon turning on the machine is language selection. You must scroll down the list to find your language of choice before continuing! The VVDI Key Tool will not allow you to change your language selection again until after set up is complete so please make sure you choose the correct language!
Additional VVDI Key Tool Max Features:
Generate remotes and smart keys
Program immobilizer via Mini OBD Tool (not included)
Reset check engine light and performance tune ECM via Mini OBD Tool (not included)
Unlock remotes utilizing the original Key Tool€™s jig sets (not included)
Read and copy access control cards
Generate and copy garage remotes
Remote frequency detection
Direct connection to Condor Dolphin
Immobilizer detection directly at the ignition coil
The underlying goal here is to provide you a single platform which will guide you through creating a functional key and get it programmed to the vehicle.
Step 1: Read the vehicle data (VIN & immobilizer) via OBD utilizing the soon-to-be released Mini OBD Tool.
Step 2: View the remote and transponder chip information for the vehicle you€™re plugged into and instantly generate your chip and key.
Step 3: View the proper keyway for cutting on the Dolphin and cut your blade (once you€™ve Lishi€™d to determine your cuts).
Step 4: Take your completed key back to the vehicle for immobilizer programming.  
Step 5: Profit!
This is truly a one-of-a-kind, comprehensive key-generating platform from some of the most innovative minds in our industry. Future updates will include the ability to run vehicle diagnostics, kill check engine lights, adjust TPMS systems, performance tune engines and much, much more.
---
**When registering your Key Tool Max, you will need to input your phone number to have a code sent to you to activate it. You MUST change the country code to 1 for this to work.