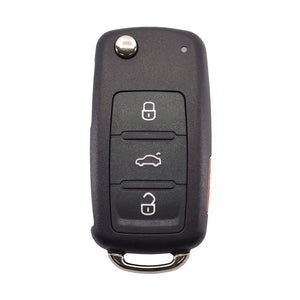 VW 2011-2016 4-Button Flip Remote Head Key (for Keyed Ignitions)
SKU: 17309976
Difficulty level**
Beetle:

Hard


EOS:

Intermediate


Golf:

Intermediate


Jetta:

Intermediate


Passat:

Intermediate


Tiguan:

Intermediate


Touareg:

Intermediate

Compatible FCC ID:
NBG010180T
Compatible IC:
2694A-010180T
5FA-010-180-21
MFK Blade:
MFK-098
MFK Chip:

Megamos 48 CAN

Important note!!: This key requires a separate adapter purchased to program. Either the KC501 or KC100 must be purchased to program this key. European cars are more difficult to program than most vehicles so it suggested to have training before programming these vehicles to avoid damage to different modules.

Nitrous Keys is a brand developed to make finding a key fob, keyless entry remote, transponder key and mechanical key for your particular automobile easy and painless. We serve the individual, shop owner, or small business that is looking to take all of the frustration out of finding good product. We are dedicated to finding product that is reliable, available, and affordable. Nitrous Keys sources from only tested and tried suppliers. Our goal is to be able to provide the product at a great price and get it into your hands as fast as possible. Thank you for trusting Nitrous Keys for all your automotive key needs. We will strive to provide you with the best product, service, and prices.

**
Easy - The Nitro Scan Tool should be able to program this key to the vehicle without any issues.
Intermediate - The Nitro Scan Tool should be able to program this key. However, you may run into some issues and hiccups along the way.
Hard - Requires high level of expertise. Removing of modules from the vehicle and soldering boards may be necessary to complete programming of this key.